Bonjour , bienvenue chez CAMELEON RECORDS, division de VINYL VIDI VICI RECORDS, le but étant de represser
des vinyles déjà édités mais introuvables ou trop onéreux. Punk, hard, garage, new-wave, folk, soul, seule l'écoute prédomine
dans le choix.
Hello, welcome to Cameleon Records, a division of VinylVidiVici Rds, whose goal is to reissue previously published LPs , but not found or too expensive. Punk, hard, garage, new wave, soul, folk .... just listen dominant in the choice.
EPUISE / SOLD OUT
15ème référence, MOPO MOGO
Ce 45t très rare est sorti en 1983 , tiré à 1000 exemplaires. MOPO MOGO c'est certainement le premier one man band punk en France (Colmar). Didier Ruyer puisque c'est son nom a tout fait lui-même, instruments et enregistrement. Il ne sert à rien de rajouter quoique que ce soit à l'excellente et unique interview recueillie par Jolicoeur et publiée par Euthanasie , voir ici.
Je remercie Didier Ruyer pour son accueil chaleureux et l'extrême facilité et rapidité qui m'ont permis de rééditer ce disque essentiel pour le punk mondial .
This rare 7" was released in 1983, 1000 copies. MOPO MOGO is certainly the first one man band punk in France (Colmar). Didier Ruyer since it is his name did everything himself, instruments and recording/ It is useless to add though that it is the excellent and unique interview collected by Jolicoeur and published bt Euthanasie, see here.
I thank David Ruyer for its warm welcome and the extreme ease and speed that allowed me to republish this essential record for global punk.
EXTRAITS SONS : POUVOIR FUCK-OFF
Verso réédition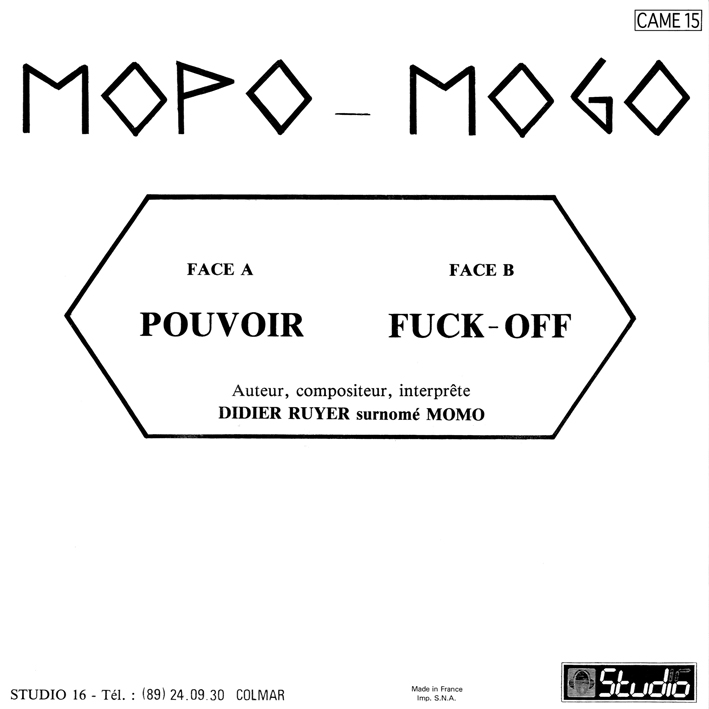 Labels réédition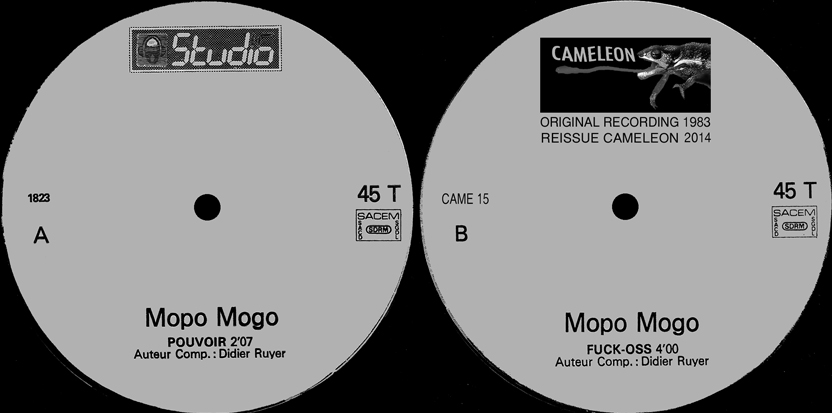 EPUISE / SOLD OUT
HOME PAGE CAMELEON RECORDS MEMOIRE NEUVE